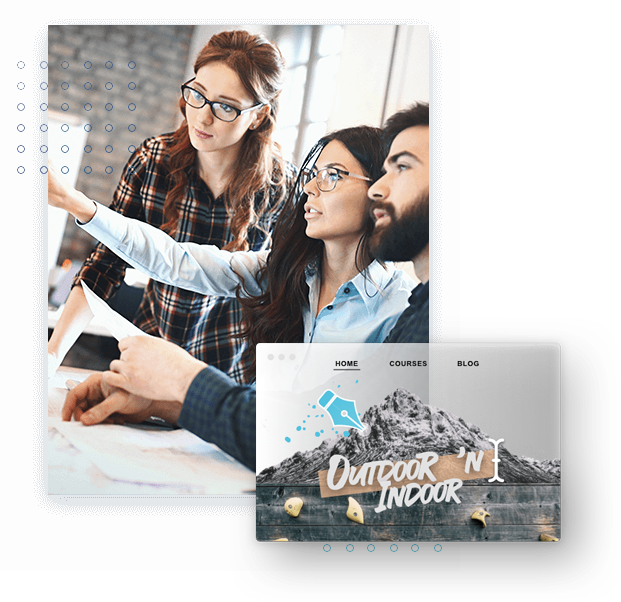 lemonplus.
The leader in creating and designing websites
Creating, designing and developing a website on the Internet in a professional manner will be a unique transformation in the concept of your website commensurate with all browsers and global search engines, we will work with you together to create a concept of distinctive content for the design of your website pages.
ALL CLIENTS
Contact us for a free consultation
FROM IDEA TO INTERNET IN THREE STEPS
Our design team will build a great looking website that matches your business, gets customers and ranks on Google.
You don't have to start right away, contact us for a free consultation at first, if you decide after that, we will talk about your needs in a free design consultation
The design team is made up of professionals in different fields, such as content writing, web design, and search engine optimization. They will use their expertise to create the website you want.
You will see the first version of your new site in a few days, in this period you can tell us any modifications, now your site is effective for users.
MORE THAN JUST A WEBSITE
We plan, create and maintain professional websites that boost your brand, reach new customers, and help tell the world your story.

Improving the user experience
Ease of use is crucial to successful websites, so we not only improve the design but also improve the user experience.
Creative designs
Together we will create creative designs that will look great on all browsers, tablets, smartphones and computers.
Official E-mail
Free email addresses like Gmail are fine for personal use, but matching your official email to your site is more professional and personal.
Search Engine Optimization
We will optimize your site's content for search engines (SEO), improve your visibility on Google and increase your site traffic.
Control dashboard
You will be able to modify your website and add other products and services via the dashboard system.
Multilingual
Raising the Level Reach a global audience with machine translation in over 60 languages.

Privacy
Our team will assist you in creating a cookie notice, privacy policy and legal notice if required.
Stay secure with SSL
SSL encryption secures all data transmissions, protecting your site visitors and improving your Google ranking.
Protection
Rest assured – our systems are always up to date. Automated security checks protect your website from unauthorized access.
Through our expert team
We will create a professional
website for you
Our developers and designers will create a website with up to ten subpages. This can include the home page, company profile, product or service pages, contact page, map and staff. More pages can be added upon request.
SEO experts step in to ensure your website is easy to find on Google.
We will help create logos and find the right images. Do you have an existing logo? Tell us and we will put it on your website.
The last touch
Your business looks better than ever
After creating your website, we'll check the content, talk you through each page, and discuss next steps. After you give it approval, we'll help you put it online.
Once your website is published, you can easily modify it yourself – or just contact us and we will make the changes for you.
Update and maintenance services
Make sure to keep your site up to date
Change is good. That's why we will continue to be there for you even after your site has been published. No change is too big or too small.
We may update contact details, announce promotions or share any of the images used on your website.
If you'd rather make changes or add content yourself, go ahead! Once your site is published online, you can modify it yourself using our handy website builder.
READY TO GET STARTED?
Ready to start a project or really curious about our process? Drop us a note or give us a call 0775447660
we're happy to answer all your questions.
Let's make something great together